Rock Hill Drywall Repair​
Drywall Repair in Rock Hill, SC
Drywall Repair Done Right!
Drywall has become the standard for both residential and commercial walls and ceilings. It is made from gypsum, a powdery material that is then dried and compressed together, easy to cut and form, and readily available. It's fire-resistant, pretty sturdy while being durable, and can come in water and mold-resistant forms. That being said, drywall can also be easily damaged if it gets too wet or if it is hit hard with an object. That's where we come in. Rock Hill drywall repair can make your walls and ceilings look like new again, saving you time, money, and the headache of repairing it yourself.
Professional Drywall Repair for any scenario
Damage can occur to drywall for many reasons. The most common are water leaks, which not only ruin sheetrock, by also, plumbers leave you with large holes in your walls and ceiling for you to take care of. As home-owners, it is awful tempting to tackle the job yourself. That only problem is, finishing drywall takes time and experience to look pristine in its final form, and many DIY'ers that tackle a drywall repair themselves are often unhappy with the results, creating a larger eyesore than they started with.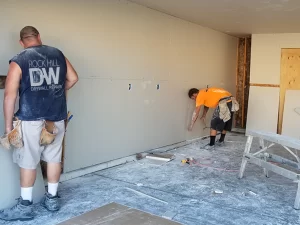 There are many ways drywall can become damaged in your home. From blunt force occurring when someone hits either hits a wall, or a piece of furniture bumps into it, paper tears, sheetrock dents, and sometimes, an actual hole gets put in the wall or ceiling. That's why our techs at Rock Hill Drywall Repair give a thorough inspection as part of every one of our free-estimates to make sure you are getting the repair you need. During our inspection, we look for the following types of damage.
Typical Types of Drywall Damage
Remodeling or tile removal
Damage occurring from moving furniture around
Wall anchors or screwed being forcefully removed
Water leaks
Foundation Cracks
Kids horsing around
Plumbers, after a water leak are repaired
As you can see, depending on what type of damage you are trying to repair, there are several types of repairs that we can use.
For small holes, we use a small amount of drywall mud to fill in the hole, then lightly sand after it dries.
Larger holes repaire wither a patch to be used, or if it is a signifcnant sized hole, it will need to be cut out so we can reach the studs. Once we cut out the hole, we cut a piece of sheetrock to fit in the hole, tape the joints, and then use several coats of mud, lightly sanding in between, to give the finished result.
Cracks in the wall or doorways can occur when foundations are settled or even if doors are slammed frequently. We cut out the weak area of sheetrock, put mesh tape over the area, then mud and sand until the area is smooth. For consistent cracks that keep coming back, we can install a flexible joint in the wall that actually bends and flexes with the wall instead of cracking the drywall.

Our techs are experienced and have the knowledge to know which type of repair is best for your situation. We want to make sure no one noticed your repair!
Different Types of Drywall Repairs
Rock Hill Drywall Repair provides expert drywall repair for all of the following drywall issues and much much more!
Popcorn ceiling removal or repair
Repair of previous attempts to fix drywall damage
Re-taping joints
Stains, cracks, and holes
Nail pops and screw holes
Ceiling damage
Plaster repair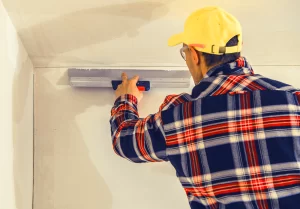 Have an older home that may need specialty wall repairs such as plaster or textured exterior or interior walls? No problem. Our techs at Rock Hill Drywall Repair guarantee a seamless finish, so no one will ever know there was ever any damage done.

Rock Hill Drywall Repair 803-877-6671
Drywall Repair, Ceiling Repair, Popcorn Ceiling Removal, and interior painting. We do it all!